NSQIP: National Surgical Quality Improvement Project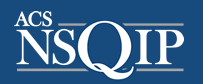 The Maine Chapter of the American College of Surgeons, with support from the Aligning Forces for Quality initiative and the Pathways to Excellence program, is encouraging hospitals to participate in the development of a statewide pilot of the ACS National Surgical Quality Improvement Program (NSQIP).
NSQIP is the first nationally validated, risk-adjusted, outcomes-based program to measure and improve the quality of surgical care. The program uses a prospective, peer-controlled, validated database to quantify 30-day risk-adjusted surgical outcomes, which allows valid comparison of outcomes among all hospitals in the program. Participating hospitals will be provided with tools, reports, analysis, and support needed to make informed decisions about improving quality of care.
We are currently developing a funding source to help underwrite the cost of participation. Additional information will be posted when available.
Maine Chapter presents documents and links below to bring future participants up to speed on what has been achieved, and what is yet to be accomplished for the NSQIP program.
NSQIP Meeting Minutes - March 23, 2009
Maine NSQIP Project Hospital Map
Maine Hospital Recruitment NSQIP letter
NSQIP Memo of Understanding - Jan 2009
NSQIP Services Provided to Hospital
NSQIP Hospital Participation Requirements
Hospital Participation Agreement